Frances McDormand made a bold statement at this year's Oscars, inviting all of the women nominated to stand with her after bagging the Best Actress prize for her performance in 'Three Billboards Outside Ebbing, Missouri'.
So far this awards season, we've seen Frances scoop the top acting prize at the Golden Globes, Screen Actors Guild Awards and Baftas, each time making a speech which proved to be one of the night's stand-out moments.
Her speech at the Academy Awards proved to be her most memorable to date, urging the women who'd been nominated in all categories to stand up in the auditorium in solidarity with her.
"If I may be so honoured to have all the female nominees in every category stand with me in this room tonight," she began. "The actors… Meryl, if you do it, everybody else will, come on!
"Filmmakers, the producers, the directors, the writers, the cinematgraphers, the composers, the songwriters, the… the… the… the… designers."
Frances then let out an excited laugh as the camera panned around the room to show female nominees from across different categories standing up dotted around the room, including Sally Hawkins and Octavia Spencer from 'The Shape Of Water', Greta Gerwig, Saiorse Ronan and Laurie Metcalf from 'Lady Bird' and, of course, Meryl Streep in the front row, who was nominated for Best Actress due to her leading role in 'The Post'.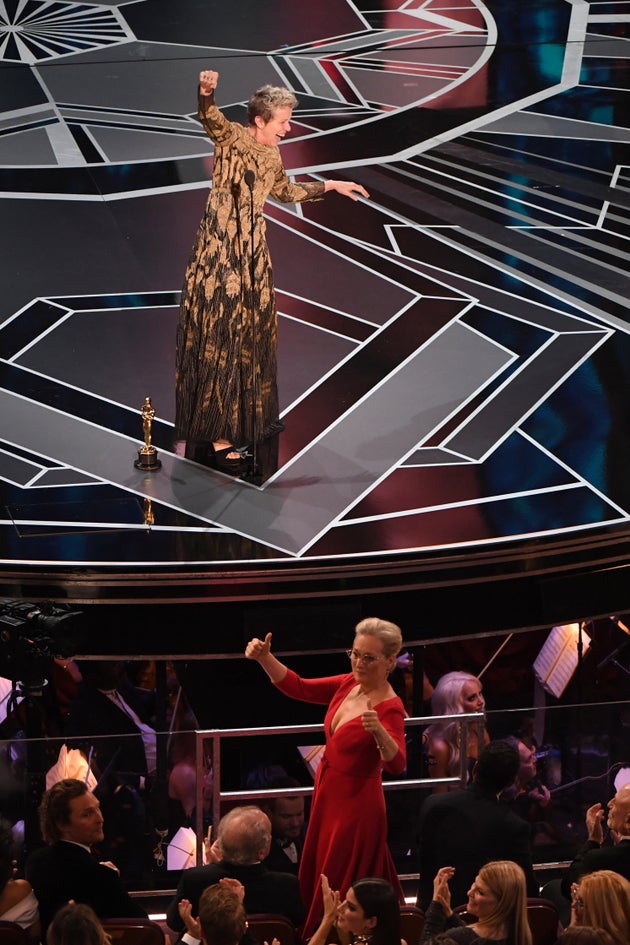 Frances continued: "Look around, everybody. Because we all have stories to tell. And projects we need financed. Invite us into your office in a couple days — or you can come to ours, whichever suits you best — and we'll tell you all about them."
She concluded her speech with two words, "inclusion rider", a proposed idea that would require films to ensure that women and people of colour were fairly represented both in front of and behind the camera.
Check out the full list of winners from this year's Oscars here.