Peter Kay has bowed to pressure to give fans more of his hit sitcom 'Car Share'.
The comedian has announced there will be two more specials of the hit BBC show, having previously said the final episode of series two would be the last.
Fans were left bereft when characters John and Kayleigh seemingly walked out of each other's lives for good, having spent the majority of the show's run willing them to get together romantically.
There was even an online petition set up demanding a conclusion to the show, which gathered over 100,000 signatures.
However, a finale episode will address what happened to them after Kayleigh stepped out of John's car.
There will also be a special improvised episode which will see Peter and co-star Sian Gibson do without a script as John and Kayliegh go about their daily commute.
After appearing on Children In Need on Friday (17 November) to announce the news, Peter said in a statement: "We were completely overwhelmed by the response and even though we've no plans to write a third series we knew we couldn't end the story there."
Revealing the improvised episode will air this Christmas, he added: "We were always very fond of ad libbing around the script when we were filming the series so we decided to see what would happen if we took the script away and just relied on just our chemistry alone, reacting to whatever came on the radio."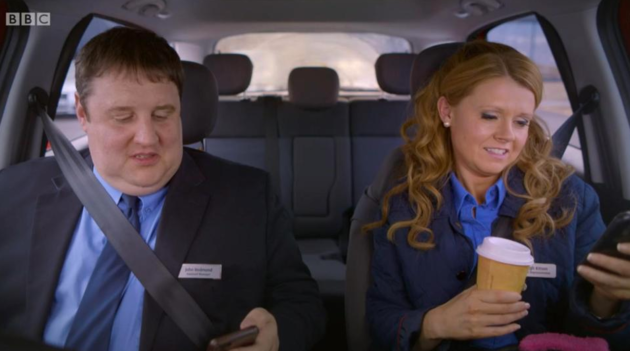 The previous series ended with Kayleigh confessing her love to John, only for him not to act on his feelings, prompting her to storm out of the car and get in a taxi.
In a dream sequence, John was then seen getting out of his car to chase Kayleigh before passionately kissing her in the back of the taxi, but in reality, John was seen on the phone to his nan claiming he was "done".
Peter later apologised to fans about the uproar over the ending, but insisted there would be no more series or any one-off specials.
Just shows you what a bit of people power can do.
The improvised episode of 'Peter Kay's Car Share' will air this Christmas, with the finale airing in 2018.