Zoe Ball has opened up about the death of her boyfriend Billy Yates to suicide last year, saying she accepts she couldn't have done anything to save him.
The BBC cameraman took his own life at his home in Putney, south London, after struggling with depression.
Now the Radio 2 and 'Strictly' presenter has spoken openly about his death after completing a 350 mile cycling challenge for Sport Relief to raise awareness around mental health.
She tells Radio Times: "Billy didn't tell me about his depression at the beginning, it's only when you get to know someone that they really share stuff like that. It's frightening to talk about it. The people suffering don't want sympathy."
Despite knowing about Billy's mental health struggles, Zoe admits there was little she could do to help.
"You can't just sit down with someone when they are that poorly and say, 'I want to help'. There is no quick fix," she explains.
"I'd say things like, 'If you exercise, go outside, see someone you love, it might help.' But it didn't. And the therapy he had didn't even touch the sides."
She adds: "Even now I sometimes think, 'I'm a resourceful woman, I'm a bright woman… why could I not save him?' And then I have to stop and say, 'Everyone who loved him knew. None of us found an answer, none of us saved him.
"To move forward you have to accept that. Which is very difficult. But I take comfort from the fact he is no longer in pain. He struggled every day and now he is at peace. The pain has stopped for him."
Almost a year on since his death, the 47-year-old star reveals that she is still very much grieving for Billy, but feels hopeful.
"I'm getting stronger. I'm a tough old cookie. My family have been through a lot. There are moments when you least expect it when grief catches you. But the main thing for me is I've found people who have been through this and are doing better.
"They've found some hope. That's the biggest thing for me – that there is hope. Otherwise what are we doing this for?
She adds: "He's missed terribly. When you lose someone like that you feel they are always with you. It's not been long.
"I don't think you ever get closure. It's something that's part of me now. He will always be in my heart. Hopefully this isn't the end, but the beginning of me doing something to help."
Read the full interview with Zoe in this week's Radio Times, out now. 'Zoë Ball's Hardest Road Home' airs on BBC One on Wednesday 14 March at 9pm (10.40pm in Wales, 10.45pm in Scotland). Sport Relief will be on BBC One on Friday 16 March at 7pm. To donate, visit www.sportrelief.com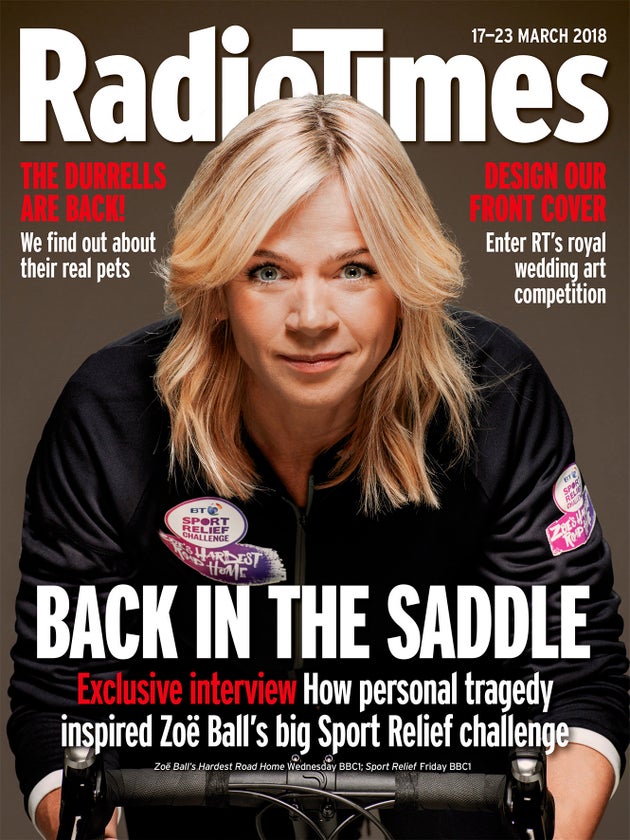 Useful websites and helplines:
Mind, open Monday to Friday, 9am-6pm on 0300 123 3393
Samaritans offers a listening service which is open 24 hours a day, on 116 123 (UK and ROI – this number is FREE to call and will not appear on your phone bill.)
Get Connected is a free advice service for people under 25. Call 0808 808 4994 or email: help@getconnected.org.uk